Looking to Sell Your East Valley Home? Learn How East Valley Realtor, Russ Wald Can Make Selling Easy!
With the rapid growth throughout the Phoenix major metropolitan area, especially in the East Valley, the real estate market can be tricky to follow at the best of times.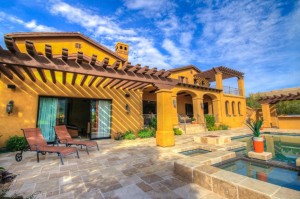 Buying or selling a home is a big, life-changing event that can be overwhelming, if not outright frightening, to tackle by yourself.
That's why it's always in your best interests to acquire the help of a professional real estate agent who knows the East Valley homes for sale. A professional real estate agent like Russ Wald, knows the local market, Russ and his team live in the East Valley area, and they spend time networking with other East Valley Realtors agents on a regular basis. In short, they do this every day and are there to share their expertise and make the process of selling your home easier for you.
When selling your house in the East Valley, you want to get the top dollar for your property and you want it quickly, because the longer it sits on the market, the lower the price will go. Not only does the price drop, but all that time, you're paying taxes, home owner insurance, and mortgage payments while trying to sell. Realtor Russ Wald can ensure you get the best price for your house and can close the deal quickly.
Many home owners ask, however, why they should hire a real estate agent at all. With so much information easily available online, they wonder why they couldn't sell their home through regular advertising and marketing channels over the internet, without assistance. While some people do alright on their own, the fact of the matter is that most don't. In 2013, statistics showed that For Sale By Owner (FSBO) homes accounted for a mere 7.4% of successful property sales. Not only that, but the difference in average price for FSBO homes vs homes sold by agents was roughly $40,900 in favor of professional representation.
There are many reasons to hire the aid of a professional Realtor when selling your home. After all, they are professionals and they are very good at what they do. Henry Ford once said that when you hire people who are smarter than you are, it proves that you are smarter than they are. Real estate agents have education and experience in the real estate field that private home owners lack, so it only makes sense to make use of their skills. They also act as buffers, filtering all those phone calls that lead nowhere from people who are "just looking" and will try to induce serious buyers to write an offer.
East Valley Realtor, Russ Wald also has an ear to the ground in the many neighborhoods in the East Valley such as Gold Canyon's Mountian Brook Village, San Tan Valley's Solera at Johnson, Ranch and Gilbert's Trilogy at Power Ranch to name a few. You may know that a house just down the road was on the market for $450,000 and that may impact your thoughts on pricing. An agent, however, will know that house had upgrades and actually sold at $365,000 after 67 days on the market and falling out of escrow twice.
Back in the 1970s, deposit receipts were only one page. Nowadays, however, purchase agreements can run up to 10 pages or more, not including the federal- and state-mandated disclosures or the disclosures dictated by local custom. The average real estate file is one to three inches of paper thick. That's a lot of pages and one small mistake or forgotten field could cost you thousands or even land you in court.
Not only will Russ Wald and his team handle all the paperwork, but they do this for a living, so they have systems in place to check, double check, and triple check the paperwork to prevent any such terrors from befalling you. Russ Wald will also provide you with peace of mind, answering any questions that may come up even long after the deal has been closed.
Contact Russ Wald to get your questions answered today! Russ is happy to help any client looking to buy or sell a home in the East Valley!