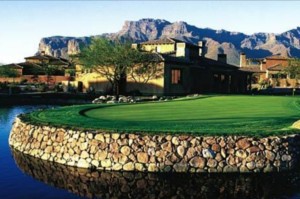 The Superstition Mountains are renowned for their beauty and the town of Gold Canyon offers some of the most stunning views of the mountain range, as well as a breathtaking panorama of the surrounding desert and sprawling golf courses.
Located out at the eastern edge of the Phoenix major metropolitan area, Gold Canyon enjoys an extremely small population, less than 11,000 in 2010, and is so small, the National Weather Service doesn't even recognize the town name in its issued weather statements. Residents need to look to reports for the nearest town, Apache Junction, for their weather forecast.
Gold Canyon has had some brief appearances in cinema. The HBO film, Blind Justice, used Gold Canyon as one of its filming locations and the Superstition Mountains were featured in the scenery photos at the beginning of the film, The Three Amigos, taken from a view point in Gold Canyon. It is also the closest community to the annual Arizona Renaissance Festival and Gold Canyon's Superstition Mountain Golf and Country Club hosts the Safeway International LPGA golf tournament.
The natural beauty surrounding Gold Canyon, coupled with the leisurely entertainment options available, makes it no surprise that Gold Canyon remains one of the most popular snowbird destinations in the Phoenix major metropolitan area. Warm weather and sunny days all year-round draw vacationers and tourists from all across the country every year as they flock to escape the cold winter months in the beautifully balmy Sonoran Desert.
Unlike most winter destinations in the Greater Phoenix area, Gold Canyon is fairly remote, so you can enjoy peace and quiet in the isolated suburbs while still having access to all the amenities and conveniences of the big city just a short drive away. With the Phoenix Sky Harbor International Airport being less than an hour away, it's the perfect travel destination for family and friends too. So contact Russ Wald and experience the magic of Gold Canyon today!