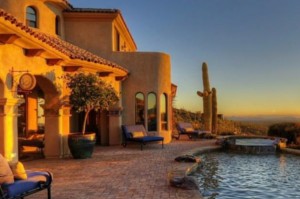 When one thinks of luxury living in the Phoenix major metropolitan area, one thinks of Scottsdale. There's simply no disputing it, Scottsdale is the pinnacle of the luxury lifestyle in the Valley.  The housing is the top of the line in real estate, featuring custom luxury homes, private, gated communities, and even mega-mansions.
Golf is an undeniable aspect of the Scottsdale lifestyle and nowhere will you find a greater opportunity to enjoy this favorite pastime. There are more than 200 golf courses located in the Valley of the Sun and a good majority of them are right here in Scottsdale.
With choices ranging from open courses to private, exclusive country clubs and resorts and everything in between, you're certain to find the perfect course to suit your golfing desires. Each course offers different terrain and difficulties from beginner to expert and several professional golfers enjoy the courses in Scottsdale during the winter time, so you might even run into a celebrity or two while on the fairway!
When you're finished putting away your putter, there's nowhere in the Phoenix area better to find great dining than Scottsdale. With over 600 restaurants in the Scottsdale area serving local and exotic dishes, robust wine bars, and Old West-style saloons, there's something for everyone, no matter what mood you may be in or where your tastes may run.
In addition to the food and entertainment, culture is a big part of the Scottsdale community. The Sonoran Desert has been inspiring artists for decades and Scottsdale is one of the most concentrated collections of art in the country, featuring more than 100 galleries as well as numerous nationally acclaimed museums, public art programs, architectural wonders, the Scottsdale ArtWalk, and world-class live performance centers. Art festivals are a common occurrence in Scottsdale and the surrounding area as well. So come to Scottsdale and let the beauty of your surroundings inspire the artist within you today! Contact Russ Wald today for more information.